Dealer-FX
---
About the Dealership
St. Marys Chevrolet is a small town dealership with a big focus on supporting their community. Since launching on ONE Platform from Dealer-FX, they have seen a significant increase in hours per RO, dollars per RO, and maintenance penetration.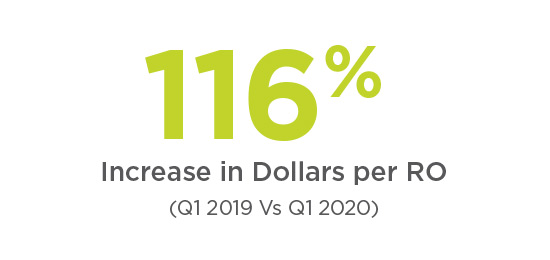 From the Dealership
"Before Dealer-FX, we were on a competitive solution that was expensive and not user friendly. Our other store, St Marys Chrysler, has been on the wiADVISOR Program from Dealer-FX for over three years now. We saw the value it delivered and wanted the same system for our store. "
ONE Platform from Dealer-FX makes us accountable because it forces our entire team to follow the process with every customer.
"We like the soft-sell approach that ONE Platform provides by presenting Factory Required Maintenance and Dealer Recommended Services to customers at every stage of the service process. By the time the Service Advisor or Technician makes an additional service recommendation, the customer has already seen it a few times — makes our job a lot easier!

One of the biggest benefits of ONE Platform is communication both with customers and internally. It has made it a lot easier to stay in contact with customers with email and text – we didn't have that with our old system. Tools like Digital MPI not only help us communicate more clearly with our customers but also increase approvals of MPI recommendations. Internal communications between our Technicians, Parts Clerks, and Service Advisors, saves us time and money.

Our Dealer Principal, Brian Wasko, always talks about the 300 Rule – present 100% of products to 100% of people 100% of the time – to achieve the best result. Dealer-FX helps us do this with the right tools and consistent processes.

Customers love the new technology – especially the new Mobile Check-In application. It gives them a better understanding of what is required to fix their vehicle and makes them feel like they are part of the service process."

The training and support on ONE Platform have been amazing. I would absolutely recommend Dealer-FX to another dealer.

Bill Wolfe, Fixed Ops Director 
St Marys Chevrolet, St Marys, PA
---
Learn More About ONE Platform
Dealer-FX connects customers to dealerships and OEMs, transforming the automotive service process into a digital service experience. Get in touch with us today and learn how ONE Platform from Dealer-FX can benefit your dealership.
/
by Dennis Welsh
https://www.dealer-fx.com/wp-content/uploads/2020/07/web_dealer_image-1.jpg
360
750
Dennis Welsh
https://www.dealer-fx.com/wp-content/uploads/2020/04/Dealer-FX-logo-website-2.jpg
Dennis Welsh
2020-07-15 10:13:00
2020-07-15 10:13:01
STREAMLINED PROCESSES HELP ST. MARYS CHEVROLET ACHIEVE A 116% INCREASE IN $ PER RO
---
About the Dealership
Calgary-based South Trail Chrysler Dodge Jeep & Ram Superstore treats the needs of each individual customer with paramount concern. This commitment to excellence earned them the "Consumer Choice Award" in 2019 for Southern Alberta. They opened their doors on February 1st, 2016 and implemented the wiADVISOR Program in 2018.
Results
wiADVISOR has been integral to implementing a consistent process in the service lane and has generated impressive results.

---
From the Dealership
"The wiADVISOR platform has transformed our service drive by allowing customers to have a more active and dynamic drop-off experience. Increased trust is by far the best benefit of wiADVISOR, as it allows customers to be much more involved in the check-in process. Consistently presenting factory recommended services for their vehicle creates greater transparency and makes them feel less like there are being 'sold' services."
"Our write-up process has been streamlined and getting information to the Technicians has vastly improved since installing the wiADVISOR program. "Podding" our customers' vehicles not only ensures accurate VIN write-up, but forces recalls, RRTs and codes present to be alerted to the Technician via the FCA Service Library. This gives the Technician a more informed view of the vehicle's condition and increases the 'Fixed Right the First Time" rate. "
"I would highly recommend wiADVISOR to any dealership management team due to the enormous value the program brings to a dealership's fixed operations."
"We have already seen a 25% increase in CP sales since implementing the wiADVISOR program. It's simple – get wiADVISOR or be left in the dust!"

Matthew Sheppard-Brown, Assistant Service Manager
South Trail Chrysler Dodge, Jeep, Ram, Calgary, AB

---
Experience a wiADVISOR Demo
Dealer-FX is proud to power the wiADVISOR Program. Get in touch with us today to experience a live demo of wiADVISOR.
/
by Dennis Welsh
https://www.dealer-fx.com/wp-content/uploads/2020/07/web_dealer_image.jpg
360
750
Dennis Welsh
https://www.dealer-fx.com/wp-content/uploads/2020/04/Dealer-FX-logo-website-2.jpg
Dennis Welsh
2020-07-07 16:19:30
2020-07-07 16:23:20
SOUTH TRAIL CHRYSLER'S CP SALES GO NORTH BY 25% WITH wiADVISOR
Dealer-FX
When looking for a technology solution capable of transforming every part of the department, Puyallup Nissan chose Dealer-FX and the platform has generated impressive results.
Continue reading the full story here.
/
by Dennis Welsh
https://www.dealer-fx.com/wp-content/uploads/2019/07/web_dealer_BK.jpg
360
750
Dennis Welsh
https://www.dealer-fx.com/wp-content/uploads/2020/04/Dealer-FX-logo-website-2.jpg
Dennis Welsh
2020-03-12 09:00:42
2020-03-20 15:42:36
BILL KORUM'S PUYALLUP NISSAN INCREASES CUSTOMER PAY REVENUE WITH NISSAN SWS FROM DEALER-FX
Subscribe to stay up to date: