Introducing Visual MPI: Empower your technicians with integrated video
We're excited to launch Visual MPI – a new approach to sending required repair videos to your customers. This new feature in our ONE Platform suite can help your dealership in three key ways: enhancing service department efficiency, generating upselling opportunities, and increasing transparency with customers.
Why Visual MPI?
Video is an excellent way to help customers understand what's happening with their vehicles. However, to be a functional tool for dealers, it has to fit seamlessly into their service process. We've listened to our clients, and they've told us that the current video MPI solutions on the market aren't meeting their needs. They may not be a natural fit in the technician's workflow, they may require additional apps, or they may not be easy to use. In some cases, the "solution" might be cursed with all of those issues.
Dealer-FX's Visual MPI was specifically designed around the dealership workflow, integrates into our already successful digital MPI solution, and is easy to use for all parties involved.
How does Visual MPI benefit your dealership?
Rather than a patch or stand-alone solution, Visual MPI is fully integrated into ONE Platform and was designed around the technician's workflow – so it's a natural addition in the repair process.
Visual MPI gives technicians the ability to record videos of recommended repairs and automatically apply them to the MPI and repair order. ONE Platform's powerful new video feature is the first of its kind, making things easier for dealers in these ways:
No apps to download
Videos don't need to be stored on the device they were recorded on
Repair order details are automatically linked to the video, eliminating manual effort
Easily share the videos with customers via text or email
How does Visual MPI benefit your customers?
If you've ever struggled with explaining required repairs to customers, you know it can be a barrier to getting them to accept the work. With Visual MPI, you can now send them a video to give them a clear picture (and upsell them at the same time).
Just as importantly, sharing the video also helps build customer trust. It's the closest thing to being right beside the technician as they diagnose the issue.
Since customer experience is a key ingredient to everything we do at Dealer-FX, we also ensured that the videos could be easily shared via text or email – giving customers a simple, convenient, and contactless method to approve repairs from their mobile device. Visual MPI also removes any negative sales pressure by removing the face-to-face or phone communication aspect of recommended repair explanations.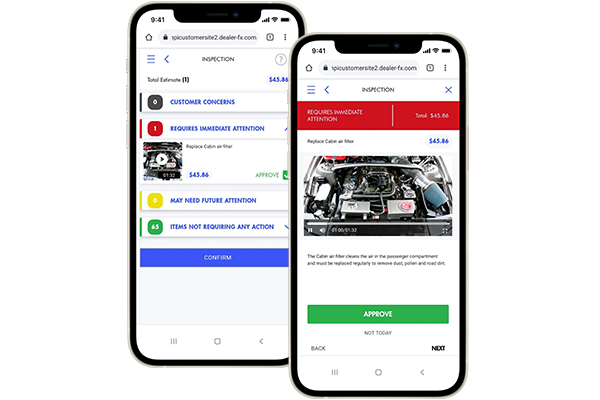 Customers can review the video and approve the repair on their mobile device.
Let's get visual
If your current video application is a "patched" solution that requires extra effort and manual input from your team, then Dealer-FX's Visual MPI is the video solution for you. With efficiency and revenue growth benefits for your dealership, and an enhanced experience for your customers, we're confident Visual MPI checks all the boxes for your dealership.
Ready to learn more about Visual MPI and the Dealer-FX digital service platform? Speak to one of our product experts today.