Service lane software:
It's only as good as the people behind it.
Why support and training is a critical purchase criteria.
After months of leafing through promotional materials and digesting endless demos, you've finally selected an exciting new service lane software solution for your business. Hold on! You're not in the clear yet. The fact is, new software implementation has a shockingly high failure rate that's often been traced back to one thing: Lack of specialized software support and training.
High Failure Rate
It's an all too familiar story. Companies invest in cutting edge software, but fail to realize the dramatic returns promised by the vendor. Overall, IT projects have a high rate of failure – up to 70% reportedly falling short of expected results. When considering any major project, budget naturally carries the most weight when it comes to making the final decision. End user training, on the other hand, is under-valued at best and totally ignored at worst. This despite an IBM report that revealed 84% of employees in the best performing organizations receive required training. In the worst performing companies, the contrasting figure is just 16%.
Support & Training Delivers ROI
Common sense would suggest that proper support and training would rank higher on the must-have list for software buyers. After all, professionally developed and delivered support helps to increase overall employee engagement, and by extension, drive adoption and utilization. Trained staff feel supported and empowered, positively affecting the chances they will embrace change versus stick with the status quo. Reaching the maximum potential from the software investment is more easily achieved, not bogged down by mistakes and delays.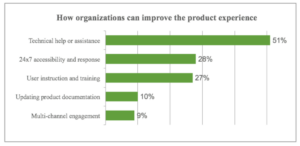 Providing support & training is the single best way to improve software experience.
The Process-based Mindset
So what exactly is "specialized" software support and training? The secret lies in a fundamental skill set of specialized support and training personnel. The best vendors focus on a process-based mindset, placing a premium on how their teams understand essential customer processes and workflow. "Being a subject matter expert is simply table stakes for us," says Ralph Ivy, Director, Field Services at Dealer-FX. "It's imperative that our teams understand how our solutions will impact current dealer processes and make expert recommendations on how to modify them to positively impact adoption. That's why we call them Process Consultants."
Ivy cautions companies in the consideration phase of digital service drive software to be aware that support, while necessary, is often viewed by the vendor as an expense that is costly to provide to customers. It's therefore easily de-prioritized during budget tightening, outsourced to cheap white label providers with little to no tangible experience with the end product or provided only in low-quality online videos.
Many service lane software solutions that cost less do so for a very good reason – lack of specialized support and training. The irony? This results in the opposite effect. When faced with new dashboards and functionalities, under-supported and untrained employees quickly get irritated, frustrated and downright unproductive. And that's a cost no business can afford for long.
BDC Managers: What separates the best ...
BDC Evaluation: The cure for performance ...