Hidden Benefits of Online Scheduling Software
Selecting the right fixed ops solution depends on understanding them.
With stretched shop capacity, staffing issues, increased recalls and more, it's natural for Service Department Managers and Advisors to view appointment scheduling software as simply a mechanism to manage daily workload. Yet there are hidden benefits to automotive service software. Being aware of them is critical to selecting the right solution for your dealership Fixed Operations.
Online Booking Growth
New technology has accelerated shopping behavior and expectations of today's customers. A clear majority of younger generations prefer to complete activities online, rather than visit in person or call on the phone. A Digital Dealer study shows that millennials book online more than any other generation, accounting for 25% of all appointments booked. With an online booking rate increase of 6.5% over the past 3 years, this growing trend shows no signs of abating.
For many of today's customers, making an online appointment is the first after-sales contact with your dealership. Here's the hidden insight: First impressions last well beyond the moment. The right online scheduling solution sets positive customer momentum in motion. It initiates immediate positive thoughts about your business, and subconsciously, in the quality of your service. Once you activate a positive mindset, it's difficult for customers to reverse their opinion on your services.
Now that positive customer momentum is in motion, there are more subtle benefits at work: algorithms. Algorithms – essentially math creations – are everywhere. They determine what you see on your social media feed or what movies your streaming service recommends. When algorithms are built into an online scheduler, data patterns are recognized and "learned", thereby streamlining appointment creation. This is invisible to customers, but very impactful on the overall experience.
Personalization for the Nation
Did you know that 71% of consumers expect companies to deliver personalized interactions? What's more, 76% get frustrated when this doesn't happen. The right online scheduling solution, like the one developed by Dealer-FX, exceeds consumer expectations for personalization. It displays anticipated costs, giving customers the ability to review VIN-specific recommended maintenance. They can generate a maintenance menu roadmap, include updated vehicle recall service and add a preferred Advisor. Customers can even select their own transportation option. Personalization makes customers feel special and they love companies that show interest in more than just a transaction.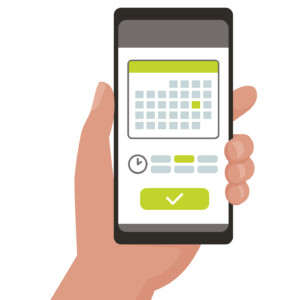 Effective online scheduling solutions integrate appointment booking confirmation & reminders via email or text.
Full Journey Customer Communication
Regardless of how customers engage with your dealership, keeping them informed and connected throughout the entire process is key. This type of transparency is the best way to establish trust. Why? It eliminates any suspicions or anxieties about the write-up, repair order and entire service process that has been concealed from customers in the past. Effective online scheduling solutions integrate appointment booking confirmation and reminders via email or text. Same for calendar syncing and follow-ups. Open communication reinforces your professionalism, a necessity for happy and satisfied customers. It also inspires customers to honor their appointment.
Positive sentiment. Personalization. Transparency. Beyond being an essential Service Department tool, the right online scheduling software delivers hidden, yet powerful benefits. Benefits that elevate its importance in the hierarchy as a tool of the digital service drive of today…and the future.
BDC Managers: What separates the best ...
BDC Evaluation: The cure for performance ...