How to Optimize Fixed Ops Workflow
The right solution provides a powerful competitive advantage
Fixed ops workflow.
It's a challenge that every Service Manager acknowledges, but very few address. Make no mistake. Ignoring the impact of poor fixed ops workflow has immediate and long-term negative consequences. Customer retention. Staff morale. Revenue growth and profitability. The time has come to rethink the way your fixed ops goes about everyday duties – and invest in a proven workflow management solution.
Is Your Workflow Really Working?
Most Service Managers understand why workflow is important, but more pressing day-to-day operations take precedence. After all, they juggle a million things, from appointments to bay utilization to "fixed right the first time" standards to customer satisfaction and more. Phew!
In essence, dealership workflow is a series of steps. Workflow efficiency depends on how those steps are organized. You may think that you're operating just fine without a clearly defined workflow. That might be true. But even if you have a well-established set of service drive processes, how do you really know if they are delivering the best results? Are they as strong as they could be? As Rick White, President of 180 Business Solutions, so aptly describes, "Business is a chess game. Every piece moves differently, and you have to orchestrate the movement of those pieces to accomplish your objective."
Greater Fixed Ops Workflow Insight
One of the biggest benefits of workflow management software is the fact it provides auto dealerships with greater insight into their processes. What's more, advanced solutions like the new Workspace from Dealer-FX are highly customizable, delivering workflow outcomes that match the unique ways each dealership wants to get the job done. "Workspace is a powerful new RO management tool that adapts to service department workflows, based on the way they want to function," says Matt Harmic, Director of Sales. "RO's are completed more efficiently. Turnaround times to customers are shortened. Retention goes through the roof."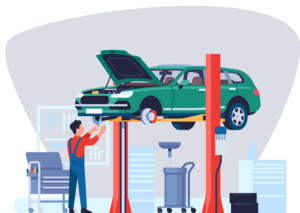 New RO management tools adapt to the unique way your service department wants to work.
Benefits Go Beyond Better Processes
Optimizing workflow can set your service offerings apart from the competition. Here are more ways the right workflow solution can provide a competitive advantage:
Increased Collaboration: Workflow software gives fixed ops personnel immediate, real-time access to critical information needed to collaborate with each other and push repair orders forward.
Active Tracking: Every vehicle in digital workflow is tracked. Increased visibility into the touchpoints of every process provides insight for improvement.
Productive Staff: Workflow software distributes the right tasks to the right personnel at the right time.
Digital Replaces Paper: Workflow software keeps digital copies of files and documents so you have a digital, easily sharable record of everything relevant to each process.
Speed Up Approvals: A built-in electronic signature feature allows for faster customer approvals and reduced time waiting for paper-based signatures.
Eliminate Duplication: How much activity is redundant? Workflow software helps identify activities that are handled multiple times by multiple people, freeing up time to focus on more critical issues.
Reduce Manual Workarounds: Errors and additional work are typical of manual inputting of data. This results in lost time, money, and even customers.
From the moment a vehicle is checked in to the moment it's picked up, mastering workflow requires every single touchpoint of your fixed ops working in unison. Workflow management software ensures  your service drive optimizes throughput, increases productivity and improves profits.
BDC Managers: What separates the best ...
BDC Evaluation: The cure for performance ...