Hello? Your profitability is on the line.
How expert BDC phone call handling drives dealership growth.
Today's modern dealership spends a whole lot of time and money to communicate with customers through online channels. Add to that investments in software to track, personalize, and optimize the consumer digital journey. It's smart. In the process, however, the one critical channel that drives growth gets overlooked: The phone call. That's where a professional business development center (BDC) comes in.
We Need to Talk
Customers want the human touch when making significant purchases, now more than ever. After all, we're coming out of a home-bound pandemic life, making human connection more prized. Plus, rising inflation has everyone more cautious about complex purchases like travel, finance, vehicle sales and service.
According to an Invoca report, today's automotive consumer is now more likely to call the dealership (67%) than back in 2020 (61%). Across all industries, consumers call businesses most often to gain additional information. Around 30% are more comfortable completing a purchase over the phone. And here's a kicker: Nearly 1 in 3 call because they could not locate needed details online.
Hello, is anyone there?!
OK, more customers are calling your dealership. So you answer, right? Well, not always. Up to 33% of phone calls go unanswered, resulting in loss of potential revenue. How significant? A Forrester study revealed that 84% of marketers say phone calls have higher conversion rates and larger order value compared to other forms of engagement. Customers who call are inherently further down the sales funnel than digital browsers, making telephone calls more valuable. Finally, if you treat consumers poorly on the phone, they won't stay customers for long – 76% will stop doing business with you after just one bad experience.
Don't Drop the Ball on Phone Call Handling
All this makes one thing clear: Never drop the ball on a call. For many dealerships that means establishing a Business Development Center, or BDC. "Phone calls are three times more likely to convert than other types of leads, so it's crucial to optimize your voice experience to connect with high-quality, low-funnel prospects," stresses Steve Miner, General Manager of Blueprint, a product of Dealer-FX. To that end, he says it's imperative to have a clear purpose with your BDC. "It's smart to get a thorough evaluation for clarity on how to build the right BDC solution. Blueprint offers expertise that covers three key dealer needs: Recruiting, Sales Mastery and Service Mastery."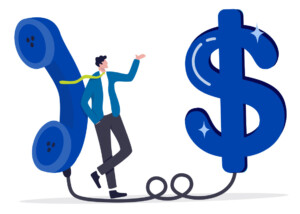 Dealerships commit a lot of money to digital. In the process, one channel gets overlooked: The phone call.
Aside from in-person showroom visits, quality telephone conversations allow for connections directly with customers…as people. Every conversation is more personal. Every customer feels more valued. Most importantly, every call can become an appointment that drives business growth.
BDC Managers: What separates the best ...
BDC Evaluation: The cure for performance ...