Service Status Updates:
Why Today's Customer Craves Them
Powerful emotions make this feature a fixed ops must-have.
The fear of the unknown. It's one of our most basic and primal emotions. Researchers define it as being afraid of something we have no information about or no control over. Conversely, knowing details about a process or specific situation reduces anxiety and doubt. That's why Automated Service Status Updates is a must-have feature for today's digital service drive.
Dude, where's my car?
According to industry reports, a leading complaint among service customers is the necessity to make repeated calls to the service department to inquire about vehicle status. In fact, 1/3 of all callers to dealerships want this information. On the opposite side, the average Service Manager and Advisor teams struggle to satisfy dozens of maintenance customers each day. Automated Service Status Updates (ASU) is the advanced solution that eases the pressure on both.
Step-by-Step Vehicle Service Status Updates
A robust Automated Service Status Updates product, like the one offered by Dealer-FX, gives the customer transparent access to the entire service process. After check-in has been completed, a link is automatically generated by ONE Platform and forwarded to the customer's mobile device via the "service welcome" text. From arrival to final delivery, the system displays the progress of the service required, including write-up, inspection, and servicing details.
Eliminating the fear of the unknown is a powerful emotional benefit for customers. But the benefits of an Automated Service Status Updates feature don't stop there. Here are five tangible benefits that every General Manager, Service Manager and Service Advisor can realize: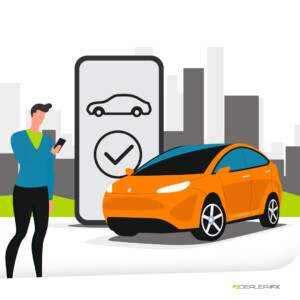 Automated service status updates provide every customer with transparency into the entire process.
Streamlined Communication
It's no surprise that 55% of customers find it important to receive updates via app or text. With an advanced ASU, customers access the status of their vehicle at any time from a mobile device, tablet or desktop. No more missed calls, voicemails or miscommunication.
Efficiency
Workplace automation helps advisors focus on important, time-sensitive tasks efficiently. It can also deliver administrative cost savings, since simple and repetitive jobs are completed automatically.
Happier Service Teams
When Service Advisors have more time for important work that engages and challenges them, the result is higher quality outcomes – and output – from your Fixed Ops team.
Productivity Boost
In a client-facing business such as fixed operations, the Automated Status Updates feature leads to a higher volume of customer throughput in a shorter amount of time.
Manage Expectations
If you tell a customer a repair "should take an hour," it kicks-starts an internal clock. Once an hour has passed, a subconscious alarm goes off. Automated Status Updates serve to "reset" the clock, per se, giving your team additional time to complete the job.
Dealerships that are leading the digital transformation of their service drive are being rewarded with growth. Why? They're keeping up with customer digital behavior. The truly insightful ones are taking it a step further by recognizing that emotional needs can be just as important as basic automotive service needs.
BDC Managers: What separates the best ...
BDC Evaluation: The cure for performance ...